Best Barns Weston 12x20 Wood Garage Kit - All Pre-Cut (weston_1220)

Best Barns is one of the shed companies that's well known to provide the best wood sheds in the business. They never compromise on the quality and they are making sure that all sheds they provide are top class. If you are aiming to have your very own Best Barns shed, the Best Barns Weston Wood Storage Shed Kit would be your best pick! This DIY shed kit combines durable and sturdy construction with a classic and functional design to make it a great fit for any backyard setting. Engineered to be used not only for storage, but also as a workshop, a garden office, or even a full-size playhouse. This kit is designed to allow you to apply the style and type of exterior siding to suit your needs. Included in this are the out swinging carriage style doors with transom windows. These doors open an 8ft wide x 7ft high opening. A key lockset is included also for security. Whatever use you may have in store for this shed, this will surely be a wonderful addition to your home for many years to come! The shed can accommodate your car, lawnmower, or any outdoor equipment you may have that needs storage. The kit comes primed and ready for painting in your choice of colors and the siding is easy to attach as well! For over 30 years, Best Barns had been producing and providing the highest quality building kits sold in the USA and Japan and they even pass on additional savings to you because they work with a local home center nearest you providing material to finish your new storage shed for professional results.
Once you receive your new building begin by unpacking the pre-cut framing, doors, and hardware. You will also receive a detailed manual with step-by-step instructions. Each step is explained with clear instructions and detailed line art and has been developed with the novice builder in mind.
Best Barns wood shed kit components fit easily into place with no special tools or skills required!
Pre-cut roof trusses for fast and accurate assembly
Pre-cut Wood Gussets
Pre-cut wall framing
Pre-cut roof sheathing
Pre-cut trim for a perfect fit
Technical Support - 7 days
Satisfaction Guaranteed
All required hardware including door hinges, latch, nails, hurricane hangers, glue for gussets, and detailed instruction manual. Shingles, roof edge, and vinyl siding provided by the owner.
SIDING
ELEVATION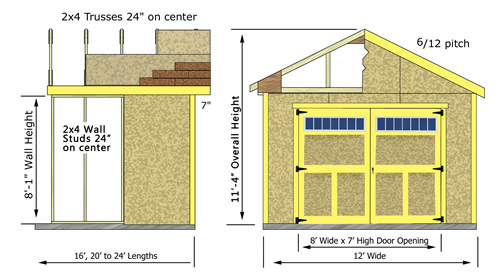 TRUSSES
OPTIONAL WINDOWS
OPTIONAL FLOOR