Free Shipping! Factory Direct Since 2006
Leisure Season Bench with Storage (SB6024)
This bench from Leisure Season is an excellent addition to any outdoor setting. It provides contentment and support as you rest the day and not only that, it can be a storage for your tools and equipment. This bench is a masterpiece!
FREE Fast Shipping!

Leisure Season Bench with Storage (SB6024)
Now hats, gloves, lost umbrellas, dog leashes and small toys have a place of their own. An outdoor storage bench that provides wide, comfortable seating and doubles as a storage unit is an attractive essential to any backyard or garden. Special details like roomy armrests and scissor-crossed back invite a relaxing sit down whether you have all day or only a minute. For fast organizing and a charming focal point, this bench with storage is a must-have. 
Features: 
Use for extra patio or porch seating or create a distinctive display of books, pillows or art projects 
Stained medium brown color and finished with protective coating
Moisture resistant for maximum weather protection, tongue and groove construction
Crafted of solid wood harvested from the Cypress tree family with decay resistance similar to Western Red Cedar
Specifications: 
Overall Dimensions: 45"W x 24"D x 33"H weighs 40 lbs 
Interior Dimensions: 42'W x 16"D x 10"H 
Opening Dimensions: 61"W x 47"H 
Material: Solid wood harvested from the Cypress tree family with decay resistance similar to Western Red Cedar
Finish: Acrylic Protective Coating 
Color: Medium Brown 
Assembly Required: Yes
Storage Capacity: 4 
Seating Capacity: 2 
Weight Capacity: 400 lbs 
Warranty: 1 year limited for manufacturing defects
Weather Resistant: Yes 
Decay Resistant: Yes 
UV Resistant: Yes 
Shipping Method: Small Parcel 
Boxes: 1 
Box Dimension: 45"L x 24"W x 8"H weighs 42 lbs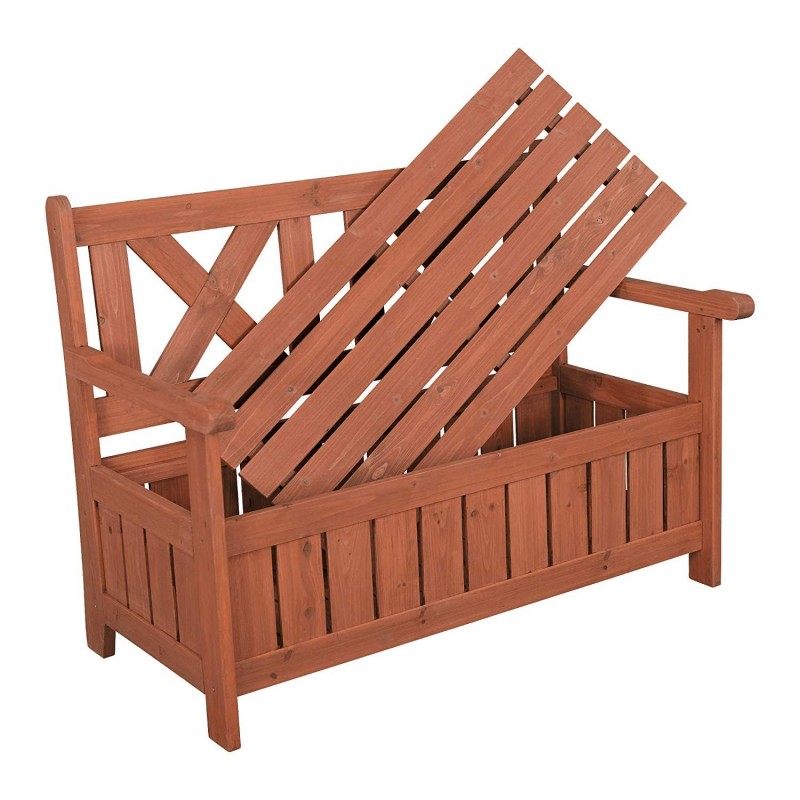 Leisure Season Bench with Storage (SB6024)