Best Barns Camp Reynolds 16x32 Wood Storage Shed Kit (campreynolds_16x32)
Contemplating if what shed would suit your storage needs best? Well, you are in the right place to find the answer because we bring you the Best Barns Camp Reynolds Wood Storage Shed Kit! This wood shed will surely enhance the look of your backyard and provide lots of extra storage with its spacious interior. You can customize this as a mini office, a workshop, or even your very own hobby room. The 2x6 truss design has 7 1/2 ft. of headroom at the center of the loft floor that will give plenty of room for additional storage, workspace, office, and many more. If you are planning to spend a lot of time inside your shed, this will be your best option because it can resist the outside temperatures, leaving the inside of the shed more pleasant than a metal, fabric, or plastic one. The siding is a primed 3/8" wood siding, with vertical grooves which creates an attractive plank look. It is made from wood strands, pressed into a resin saturated substrate, superior to plywood. A cedar texture is embossed into the substrate, free from knot holes and patches. It is also primed and ready for the paint color of your choice and is treated with Composibor (from U.S. Borax) that prevents fungal decay and insect damage. The frame is strong and takes the weight, but the sidings provide the lateral strength which really stiffens up the walls of the shed. This means that in strong winds, it isn't going anywhere. The Best Barns Camp Reynolds Wood Storage Shed Kit is built with 2x4 framing 16 in. o.c. wall construction that allows you to insulate and finish the interior with drywall or paneling. For over 30 years, Best Barns had been producing and providing the highest quality building kits sold in the USA and Japan and they even pass on additional savings to you because they work with a local home center nearest you providing material to finish your new storage shed for professional results. Note: Paint, Shingles, and Roof Edge are NOT INCLUDED

Features:

Sizes: Available in 16x28 and 16x32
Sturdy-Built Truss System
30 lbs snow load
140 mph max wind load
2x6 trusses
Clear-Span Loft
Full Second-Floor Loft with 7'1" headroom
3/4" T&G floor sheathing supported with 2x10 floor joists
Dormer - 20ft. long dormer with included windows
SIDING
CONSTRUCTION
The below pictures of construction are of the Ravenna kit. This is a sister model to Camp Reynolds. The difference is the type of door included.
Our display model took 2-4 people approximately 10 days to construct. Time to build will vary depending on skill, effort and number of people. When working on the second floor it is highly recommended scaffolding is utilized for any exterior work.
WINDOWS
(4) Four single hung insulated windows with screens & raised panel shutters are included. Shutters can be painted to the color of your choice (paint not included). The dormer windows are 28in. x 38in. and the lower windows are 36in. x 36in.
DOOR
The included 9-Lite walk-in door can be installed as shown or in any location or your choosing.
STAIRS
The stairs have been redesigned to now feature a fully enclosed stairwell. Pictures show a single interior wall but now include a second wall.
The included stairs are 'L' shaped and are designed so the landing in the second floor is exactly the center of the building.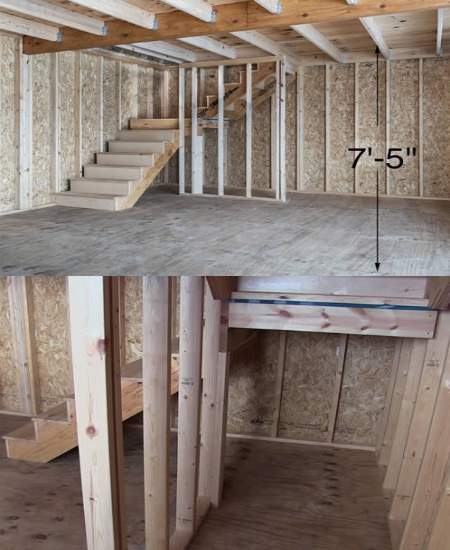 LOFT