Free Shipping! Factory Direct Since 2006
Yardistry Meridian 12x12 Gazebo Kit (YM11769)
Create the perfect setting for all your outdoor entertainment needs with Our Yardistry Meridian 12x12 Gazebo Kit that will definitely fit your needs. It comes in a ready-to-assemble kit and all hardware and components are included. For more details, please see below or contact us at 888-757-4337!
FREE Shipping!
On SALE Until October 1st
Only While Supplies Last

Yardistry Meridian 12x12 Gazebo Kit (YM11756)     

Every American home deserves to have landscape scenery in its respective backyard so if you wish to achieve this, adding a gazebo would be a very wise choice! A gazebo will add a touch of elegance to your outdoor area and if you choose the covered in style can have many more uses! Introducing the Yardistry 12 x 12 Meridian Gazebo Kit! This gazebo is built using 100% Cedar Lumber for superior quality as well as an aluminum roof that provides shade and protection from the outdoor elements. Tea parties, afternoon game sessions, or pool parties will be a breeze if have this one handy. This gazebo will surely look good in any backyard setting with its natural cedar stain and neutral coffee brown roof too! You can easily have a gazebo around for accommodation of any outdoor gathering need. The illustrated step-by-step instruction manual and helpful hints installation video will guide you through every step of the assembly process. Note: Designed to be surface mounted (Mounting hardware NOT included)

Features:

Built with 100% Premium Cedar Lumber
Pre-cut, pre-drilled, and pre-stained Lumber with factory-applied, environmentally friendly stain
Pre-stained exterior grade cedar that stands up to the elements and ensures years of enjoyment
Stunning Coffee Brown aluminum roof
6"x 6" posts with classic plinths
Overall Roof Dimensions: 12' x 12'
Heavy corner gussets
Finished in a beautiful natural cedar stain  
Ready to assemble kit
All hardware and components included

Packaging:
The 12' x 12' Meridian Gazebo is packaged in 3 boxes:
Box 1: 105" L x 22 ½" W x 8" H = *180 LBS
Box 2: 105" L x 44" W x 4 ¾" H = *225 LBS
Box 3: 105" L x 22 ½" W x 8" H = *162 LBS
*Disclaimer. Precise weight may vary due to moisture content.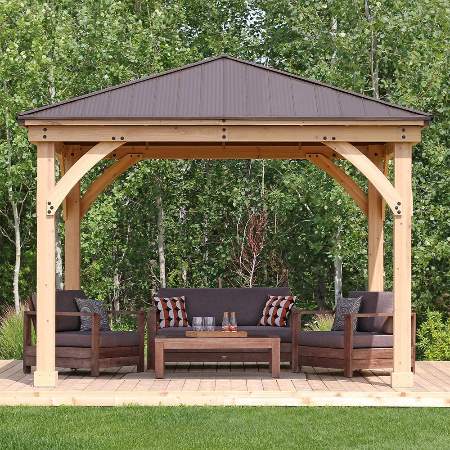 Accessories
Yardistry Madison Bar Stools (YM11790)
Your Madison Pergola or your existing outdoor structure will surely be perfect with our Madison Bar Stools. Made from 100% premium cedar lumber, these durable pairs include heavy construction and protective footpads. For more details, please see below or contact us at 888-757-4337! FREE Shipping!
Price
$229.00
Regular price
$299.95
Yardistry Meridian 12x12 Mosquito Mesh Kit (YM11793COM)
Complete your 12x12 Meridian Gazebo with this Meridian Mesh Kit. It has a full-length zipper on all 4 panels creating an entrance on all sides of your Yardistry Gazebo while keeping the bug and mosquitoes away.  Call us at 888-757-4337!FREE Shipping!Designed to fit exclusively on Yardistry's 12 x 12 Meridian Gazebo only.
Price
$449.00
Regular price
$579.95
Related Products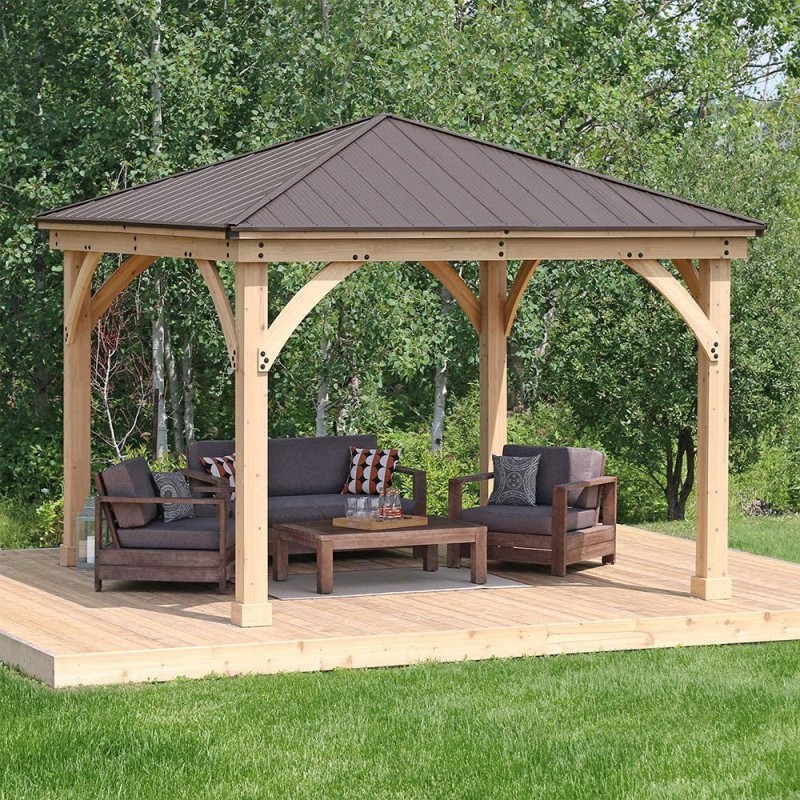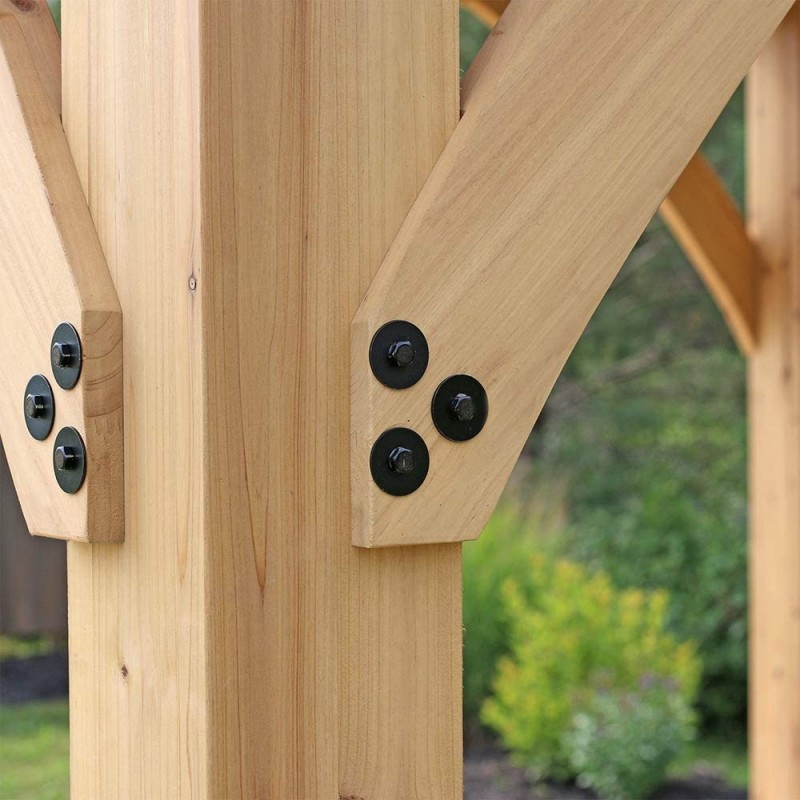 Yardistry Meridian 12x12 Gazebo Kit (YM11769)