Free Shipping! Factory Direct Since 2006
Yardistry Meridian 12x20 Gazebo Kit (YM11775COM)
Create the perfect setting for all your outdoor entertainment needs with Our Yardistry Meridian 12x20 Gazebo Kit that will definitely fit your needs. It comes in a ready-to-assemble kit and all hardware and components are included. For more details, please see below or contact us at 888-757-4337!
Free Shipping!


Yardistry Meridian 12x20 Gazebo Kit (YM11775COM)

Your daily dining experience can be more flavorful when you bring it outside with the Yardistry 12x20 Gazebo With Aluminum Roof! Not that it can only bring the family closer together but having this gazebo in your backyard will also help your entire property to be more attractive than ever. Made with 100% cedar, and finished in a natural cedar stain, this gazebo is not only a beautiful piece but also a long-lasting outdoor structure that can hold different purposes such as an outdoor living space for your entire family. Its stunning Coffee Brown aluminum roof will provide you and your family the much-needed shade for many years to come! The 6x6 posts with classic plinths and heavy-duty construction enable this gazebo to be attached to any structurally safe surface! The Yardistry 12x20 Gazebo With Aluminum Roof is already pre-cut and pre-drilled so all parts will fit together with ease during assembly. The illustrated step-by-step instruction manual is included too so can be guided every step of the way! Note: Designed to be surface mounted (Mounting hardware NOT included)
Features:
Built with 100% Premium Cedar Lumber
Pre-cut, pre-drilled, and pre-stained Lumber with factory-applied, environmentally friendly stain
Pre-stained exterior grade cedar that stands up to the elements and ensures years of enjoyment
Stunning Coffee Brown aluminum roof
6" x 6" Posts with classic plinths
Heavy, curved corner gussets
Finished in a beautiful natural cedar stain
Overall Dimensions (L x W x H): 20' 5" x 12' 2" x 10' 2"
Base Dimensions (L x W): 19' 7/8" x 10' 10 3/8"
Packaging:
The 12' x 20' Meridian Gazebo with Aluminum Roof come in 5 packages.

Box 1: 104" L x 44 1/2" W x 5" H =*265 lbs
Box 2: 104" L x 22 3/8" W x 10 7/8" H =*236 lbs
Box 3: 104" L x 22 3/8" W x 10 7/8" H =*223 lbs
Box 4: 104" L x 22 1/2" W x 5 1/4" H =*115 lbs
Box 5: 104" L x 22 1/2" W x 5 1/4" H =*112 lbs
*Disclaimer. Precise weight may vary due to moisture content
Accessories
Yardistry Madison Bar Stools (YM11790)
Your Madison Pergola or your existing outdoor structure will surely be perfect with our Madison Bar Stools. Made from 100% premium cedar lumber, these durable pairs include heavy construction and protective footpads. For more details, please see below or contact us at 888-757-4337! FREE Shipping!
Price
$229.00
Regular price
$299.95
Yardistry Meridian 12x16 Mosquito Mesh Kit (YM11920COM)
Complete your 12x16 Meridian Gazebo with this Meridian Mesh Kit. It has a full-length zipper on all 4 panels creating an entrance on all sides of your Yardistry Gazebo while keeping the bug and mosquitoes away. For more details, please see below or contact us at 888-757-4337! FREE Shipping!      Designed to fit exclusively on Yardistry's 12 x 16 Meridian Gazebo only.
Price
$489.00
Regular price
$629.95
Great gazebo
5
The delivery was painful as the service just drops it in front of your house in the street, but once you get the right crew to assemble it, it is a great product.
Great addition to our yard!
4
My second Yardistry gazebo in my yard. This one had some new additions with soffits and a finish I am a little unsure of…. Does this one have stain on it like my previous gazebo? We had a whole crew here for the roof assembly and as I mentioned above the soffits came into play. We did everything to get the soffits to align and there was absolutely no way for that to happen. The gazebo isup and looks absolutely amazing and Yardistry delivers an amazing product but for a consumer without construction skills this 12x20 could be a rough go. Shipping was amazingly fast! This is amazing product and worth the price but there are a few quirks and we made it through them!
Related Products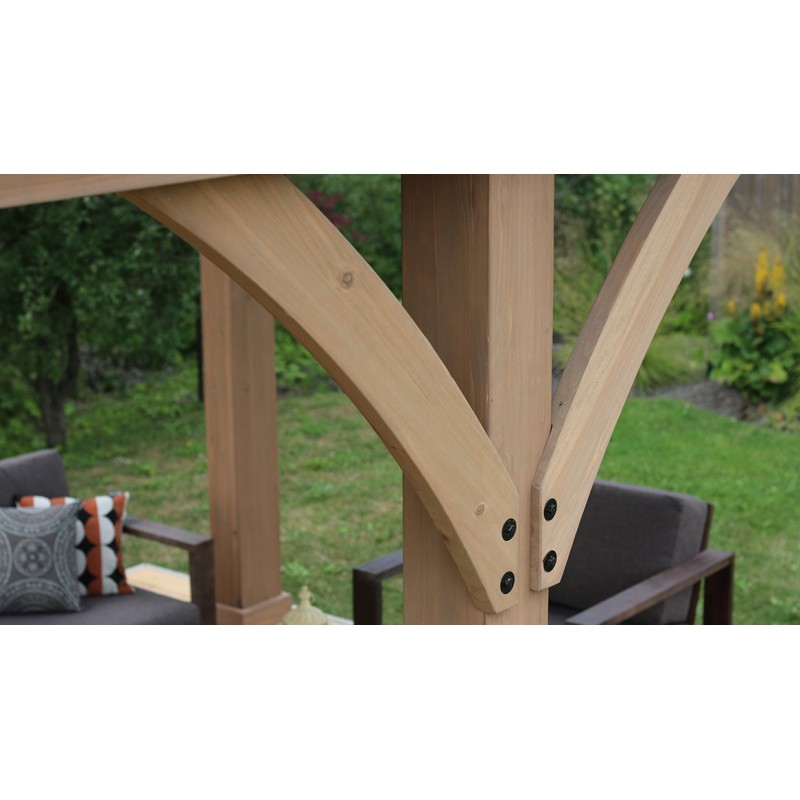 Yardistry Meridian 12x20 Gazebo Kit (YM11775COM)