Free Shipping! Factory Direct Since 2006
Palram – Canopia Yukon 11x21 Plastic Shed Kit - Gray (HG9921SGY)
This Yukon shed will help you get rid of all the unwanted clutter in your house. Organize everything in one place and easy for you to find it. For more details about this shed, contact us at 1-888-757-4337.
FREE Fast Shipping!


Palram – Canopia Yukon 11x21 Storage Shed Kit - Gray (HG9921SGY)

The Yukon shed is perfect for storing, organizing, and protecting your outdoor gear. Made with virtually indestructible polycarbonate and a reinforced aluminum frame, the Yukon shed will provide years of maintenance-free protection. The shed features wide double doors, and a low threshold ramp allowing you to easily store lawn tractors, lawn mowers, garden equipment and more. The commercial grade polycarbonate roof and side panels will hold up to weather's harshest elements, they are highly impact resistant, won't fade, sag or warp and are resistant to mold, mildew, and termites. The unique skylight polycarbonate roof panels appear opaque yet allow light to pass through providing a cool natural illumination to the interior.   Designed with your outdoor needs in mind, the Yukon shed is guaranteed to provide years of maintenance free protection.  A solid foundation is highly recommended for proper anchoring and stability.
*Flooring and shelving not included
Features:
10MM thick twin-wall polycarbonate side panels
Wide double doors and low threshold ramp, ideal for lawn tractors, mowers, personal watercraft and garden equipment
Extreme weather resistance: construction grade, 100% UV protected fortified polycarbonate panels, high impact resistant
Roof panels allow natural light to pass through to coolly illuminate the interior
Includes two screened vents for front and rear ventilation
Reinforced aluminum frame
Heavy duty galvanized steel base
Concrete foundation highly recommended, or ¾" plywood on solid platform.  Always anchor securely and follow all local building codes
15 Years Limited Warranty
Specifications:
Limited Warranty: 15 
Sq. Feet: 231
Dimensions (in feet): 11 x 21 x 8 
Dimensions (in inches): 253"L x 131"W x 99"H (peak)
Sidewall Height: 71 
Head Room: 99 ft 
Door Dimensions: 58" W x 70" H 
Peak: 99" 
Total Product Weight: 390
Snow Load: 15.4 lbs sq.ft
Wind Load: 75 mph 
# of Vents: 2 
Light Transmission: 90%
Roof Material: Polycarbonate
Roof Color: Charcoal Gray 
Sides Material: 10mm Twin Wall
Sides Color: Gray 
Frame Material: Aluminum 
Frame Color: Silver
Ship Method: Shipped via LTL Motor Freight Only, Curbside Tailgate Delivery 
Total Box Qty: 6
Accessories
Palram – Canopia Yukon Shed Bike Hook (HG1086)
This bike hook will provide you the simplest and smartest solution when mounting your bike. This will help you free up some floor space that you can use for other items and will ensure safety when your kids are running around the shed. For more details, contact us at 888-757-4337! FREE Shipping!
Price
$29.95
Regular price
$39.95
Owner's Manual
- (Palram Yukon 11x9 Storage Shed Kit Gray (HG9909SGY))
Related Products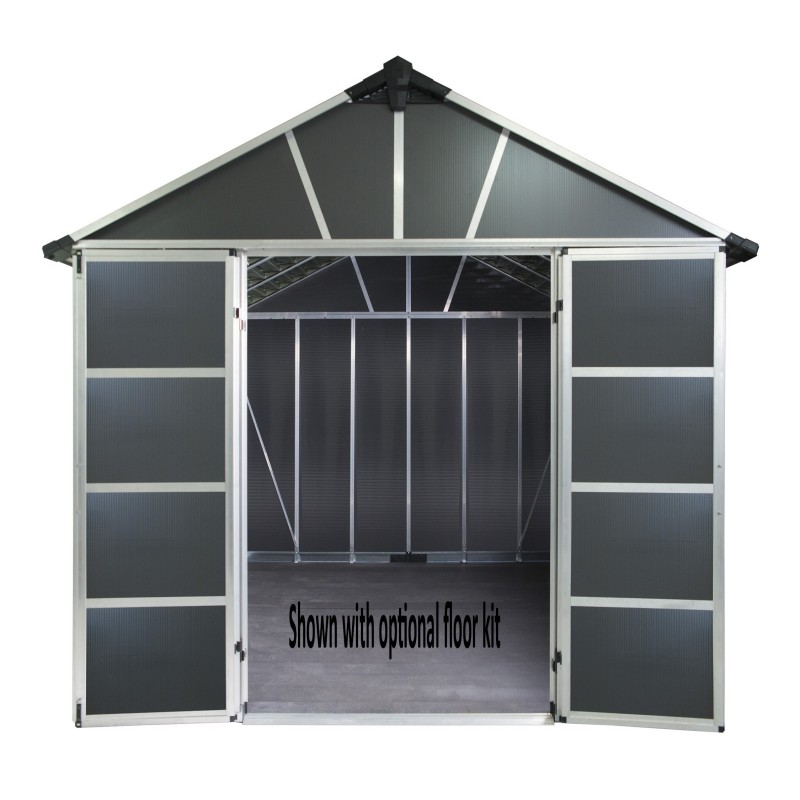 Palram – Canopia Yukon 11x21 Plastic Shed Kit - Gray (HG9921SGY)