Best Barns 12x20 Geneva Wood Storage Shed Kit (geneva1220)
When it comes to providing your backyard space the transformation it really needs as well as maximizing its accommodation purpose, wooden shed kits would be the best choice. Make a wonderful investment with the Best Barns Geneva Wood Storage Shed Kit! This wood shed kit from Best Barns offers a swing-open carriage-style door with transom windows. This can be used as a personal workspace, a garage unit, or mainly an extra-large storage facility to keep safe your different equipment and valuables. It provides an 8x7 ft. access and is partnered with a 3/8 in. Louisiana Pacific Smartside Ext. Paneling that is treated to resist fungal decay and insect infestation making it the perfect backyard space unit for many years to come. With its 2nd floor loft, it will give you a great amount of overhead storage space along with its high side walls that provide additional room to add more shelves. The Best Barns Geneva Wood Storage Shed Kit is engineered with a heavy-duty roof system that can withstand wind load of 150 mph and snow loads of up to 60 lbs. per square foot! Best Barns had been producing and providing the highest quality building kits sold in the USA and Japan for over 30 years and they even pass on additional savings to you because they work with a local home center nearest you providing material to finish your new storage shed for professional results.
Featuring attractive carriage style doors with transom windows which open 8ft. wide. Plenty of room for a full size car or a small tractor. Available in 16ft., 20ft. and 24ft. lengths the interior room is large enough to add shelving and workbenches.
Additional space is provided by a loft with 4ft.-3in. headroom at center. The loft floor is 8ft. wide and runs the length of the building. During construction the homeowner chooses a location to open access to the loft area.
ASSEMBLY
Once you receive your new building begin by unpacking the pre-cut framing, doors and hardware. You will also receive a detailed manual with step by step instructions. Each step is explained with clear instructions and detailed line art and has been developed with the novice builder in mind.
Best Barns wood shed kit components fit easily into place with no special tools or skills required!
Pre-cut roof trusses for fast and accurate assembly
Pre-cut Wood Gussets
Pre-cut wall framing
Pre-cut trim for a perfect fit
Pre-built barn doors
Technical Support - 7 days
Satisfaction Guaranteed
All required hardware including door hinges, latch, nails, hurricane hangers, glue for gussets and detailed instruction manual. Shingles and roof edge provided by owner.
SIDING MATERIAL
LOFT
DIMENSIONS OF THE SHED
OPTIONAL FLOOR
CARRIER DOOR INCLUDED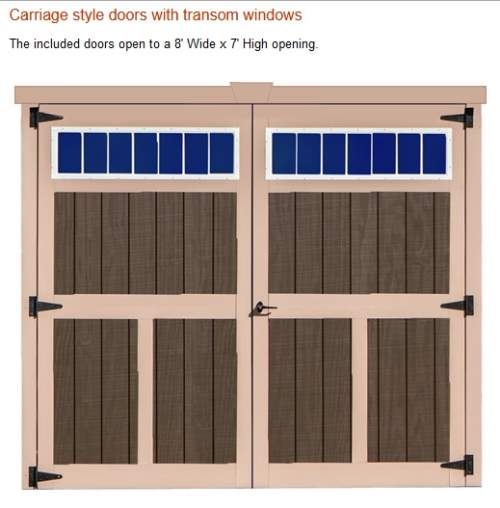 OPTIONAL WALK-IN DOOR
OPTIONAL WINDOWS