Best Barns Cambridge 10x20 Wood Storage Shed Kit (cambridge1020)
The Cambridge offers unique pocket doors that sets this shed into a class of it's own. One of Best Barns most popular wood shed kits this model is both functional, attractive and will make a great addition to any back yard. Available in 12', 16' and 20' lengths the 10' wide Cambridge provides plenty of space for storing your tools and garden equipment.
Features
Pocket Doors:

Attractive arched opening
Heavy duty doors and hardware
Sturdy-Built Truss System:

40 lbs. snow load / 90 mph wind load
Gable Overhang:

11" front overhang to protect against the elements
Pre-primed Siding:

Siding - 3/8" L. P. (Louisiana Pacific) Smartside Ext. Paneling w/50 year limited warrant
* shown with optional windows and cupola
Once you receive your new building begin by unpacking the pre-cut framing, doors and hardware. You will also receive a detailed manual with step by step instructions. Each step is explained with clear instructions and detailed line art and has been developed with the novice builder in mind.

Best Barns wood shed kit components fit easily into place with no special tools or skills required!


Pre-cut roof trusses for fast and accurate assembly
Pre-cut Wood Gussets
Pre-cut wall framing
Pre-cut exterior siding for an accurate fit
Pre-cut roof sheathing
Pre-cut trim for a perfect fit
Pre-built pocket doors
Technical Support - 7 days
Satisfaction Guaranteed
All required hardware including door hinges, latch, nails, hurricane hangers, glue for gussets and detailed instruction manual. Shingles and roof edge provided by owner.
SIDING: 
ELEVATION: 
TRUSSES: 
POCKET DOORS: 
Sliding doors are made from solid pine tongue-and-groove barn siding. Arched opening adds visual appeal. 


Opened, doors recede from sight. Closed, they're weather-tight and block out rain and snow. Door opening width is 4'-7".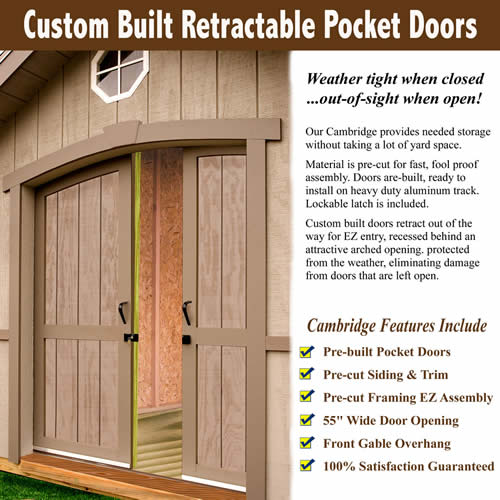 OPTIONAL WINDOWS:
OPTIONAL FLOOR: