Free Shipping! Factory Direct Since 2006
Palram Canopia 8x18 Sun Room 2 Greenhouse Kit - White (HG7618)
Perfect for relaxing, gardening or entertaining, the Sun Room 2 creates a great outdoor space that is protected from harmful UV rays.
FREE Fast Shipping!

Palram – Canopia 8x18 Sun Room 2 Greenhouse Kit - White (HG7618)
Turn your existing porch, deck or patio into a great sunroom enclosure! Use for an additional seating area, hot tub room, greenhouse space or any other use you can imagine. The Sun Room 2 features two kinds of virtually unbreakable coverings to give you the best of both worlds. Roof panels are 4mm twin-wall polycarbonate, offering UV protection and diffuse light. Crystal clear acrylic side walls are 100% UV protected while allowing over 90% light transmission, as well as clear views, while being ultra-safe. Durable white resin frame improves insulation and is maintenance free for ease of use. Hinged door and included roof vent provide air circulation. Accessories and additional lengths available.
Features:
Quickly and easily cover your porch, deck or patio entrance
Roof panels are 100% UV protected, 4mm twin-wall polycarbonate to protect from direct sunlight
3mm translucent acrylic wall panels are 100% UV protected and as clear as glass but safer
Heavy-duty resin frame is durable and maintenance free for years of use
Hinged side door and included roof vent provide air circulation on warmer days
Additional accessories available
Adjustable roof vent
Limited Warranty: 7 year
Size (Rounded): 8 x 18 x 8
Square Feet: 158
Head Room: 8.2
Dimensions: 224.4L x 101.6W x 104.7H (Peak)
Sidewall Height: 49.2"
Door Opening Dimensions: 31.7W x 73.6H 
Total Product Weight: 522.5 lbs
Roof Color: Translucent
Roof Material: 4mm Twin Wall Polycarbonate
Sides Material: 3mm Acrylic
Frame Color: White
Frame Material: 100% UV-protected resin 
Ship Method: LTL Motor Freight Only, Curbside Tailgate Delivery
Total Box Qty: 7 boxes
Accessories
Related Products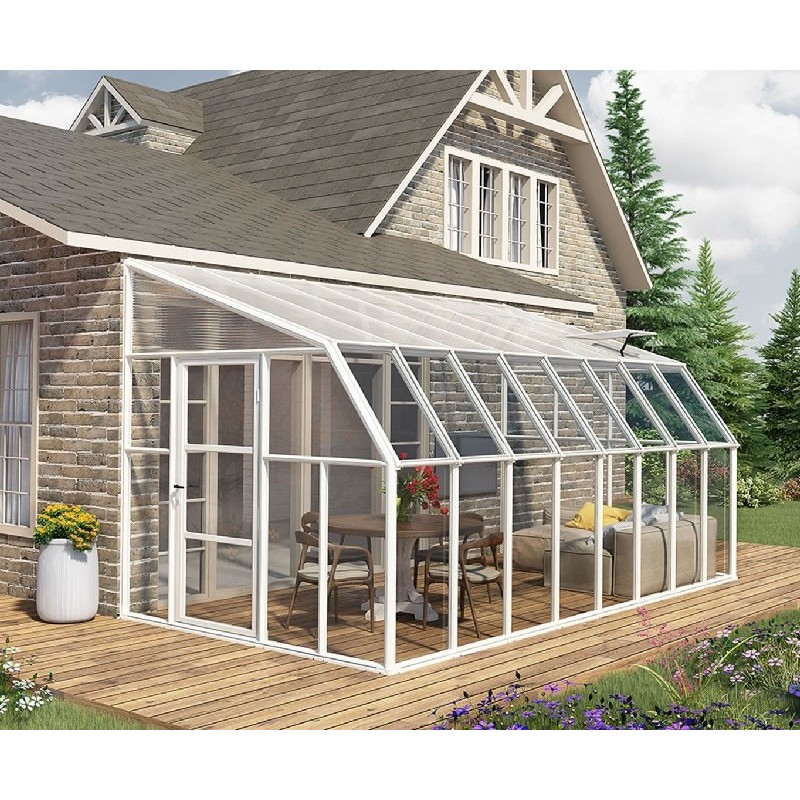 Palram Canopia 8x18 Sun Room 2 Greenhouse Kit - White (HG7618)