VersaTube 2-Sided 24x20x12 Classic Steel Carport Kit (CM324200120-NS0009)
The Classic design has been the traditional mainstay of carport manufacturers and retailers for many years. And with the VersaTube Slip-Fit frame system, you can get your carport kit with roof assembled in a single afternoon using common tools.
Structure Dimensions:
Erection Size: 24'W x 20'L x 12'H
Roof Pitch: 3:12
Sheet Metal Coverage: Roof and sides
Side Wall Height: 12'
Peak Height: 15'
Ground-To-Truss Brace Clearance: Approx. 12'
Special Note on Frame Length: Actual frame length is 18' long with 4.5' on center truss spacing
On Center Spacing: 4.5'
Steel Frame: 2"x 3" 14 & 15 gauge tubing made of the highest quality domestic galvanized steel
Sheet Metal Panels: 34
Sheet Metal Panel Size: 10' and 9'2"
Sheet Metal Gauge: 29 gauge
Maximum Snow Load:
Ground Snow Load - 31lbs.
Roof Snow (LIVE) Load - 22 lbs
at 90 MPH wind load
Maximum Wind Load:
120 MPH wind load
at 27lbs. Ground Snow Load
20 lbs Roof Snow (LIVE) Load

Shipping Dimensions:
Pallet Size: 40"W x 120"L x 16"H
Total Weight: 1590.59 lbs
Warranty Details:
Frame Warranty: 20 year limited + product pledge
20 year paint finish
Classic Series DIY carport kit features the addition of side sheet metal panels to the standard horizontal roof canopy, providing extra protection with complete ground-to-ground coverage.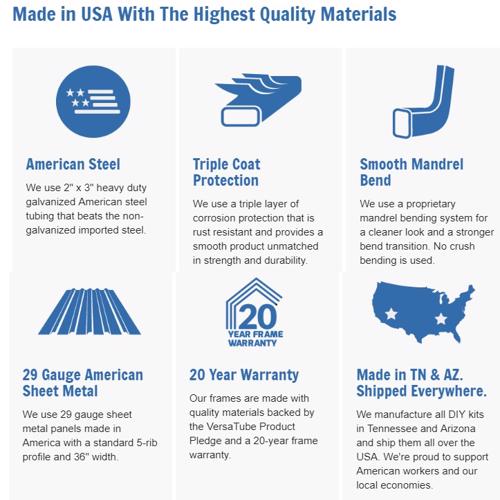 SELECT COLOR OF YOUR CHOICE!