Versatube 20x20x10 Frontier Steel Garage Lean-To Kit (FBM2202010516-LT12)
Roof purlins are included for vertical sheet metal application, but no side girts are required. Fewer frame components makes the Frontier design a lower cost alternative to our Summit building style. And assembly time is drastically reduced with our patented Slip-Fit frame connections.
Structure Dimensions:
Erection Size: 20'W x 20'L x 10'H
Lean-To Erected Size: 12'W x 20'L x 7'H
Roof Pitch: 3:12
Sheet Metal Coverage: Roof, walls & trim, including trim for 16'W x 8'H garage door opening & 36"W x 80"H eave side walk door opening. Lean-To: Roof & Trim
Side Wall Height: 10' ; Lean-To: 7'
Peak Height: 12'6"
Ground-To-Truss Brace Clearance: Approx. 10'
Garage Door Opening Size: 16'W x 8'H (Door(s) Not Included)
Walk Door Opening Size: 36"W x 80"H (Door Not Included)
Special Note on Frame Length: Actual frame length is 20'2"
On Center Spacing: 5'
Steel Frame: 2"x 3" 14 & 15 gauge tubing made of the highest quality domestic galvanized steel
Sheet Metal Panels: 57
Sheet Metal Panel Size: 12'10", 10'7", 10'2" and 2'
Sheet Metal Gauge: 29 gauge
Maximum Snow Load:
Ground Snow Load - 52 lbs.
Roof Snow (LIVE) Load - 37 lbs
at 90 MPH wind load
Maximum Wind Load:
98 MPH wind load
at 27 lbs. Ground Snow Load
20 lbs Roof Snow (LIVE) Load

Shipping Dimensions:
Pallet Size: 40"W x 120"L x 16"H
Total Weight: 3528 lbs
Warranty Details:
Frame Warranty: 20 year limited + product pledge
Sheet Metal Warranty: 20 year paint finish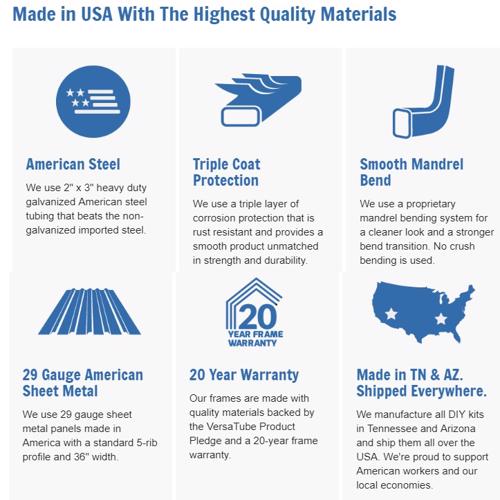 SELECT YOUR COLOR COMBINATION!