Best Barns Jefferson 16x24 Wood Garage Kit (jefferson_1624)

The rustic and classic look of a woodshed enhances any backyard and adds value to any home that is why Best Barns have used their more than 30 years of experience to make DIY shed kits as simple as possible no matter what your skill level is. If you are interested in having your own wood shed kit, the Best Barns Jefferson Wood Storage Shed Kit will suit you best! This two-story model can be used for a single-car garage, large storage building, or perhaps a workshop. This shed kit provides two floors of unobstructed space without interior walls or supports required and even its high sidewalls on the lower level can be insulated if desired. The loft area offers 7ft. and 1in. of headroom at the center with plenty of room for storage right to the outside walls. The garage doors are not included but it is designed to accommodate either a 9ft. or 8ft. wide garage door. This allows the homeowner to purchase the style and color of their choice. If you're considering a workshop or storage building other styles of doors can be installed instead of a garage door. The choice is yours! Single-hung insulated windows with shutters are included and during construction, you can install the windows in the location of your choosing. The Best Barns Jefferson Wood Storage Shed Kit also has a 9-Lite 32 in. walk-in door for additional access that can be installed on any wall. For over 30 years, Best Barns had been producing and providing the highest quality building kits sold in the USA and Japan and they even pass on additional savings to you because they work with a local home center nearest you providing material to finish your new storage shed for professional results.
Garage door NOT included.
Shingles, roof edge, and paint NOT Included!

Features:
Sturdy-Built Truss System
30 lbs. snow load
140 mph max wind load
2x6 trusses
Clear Span Loft
Full second-floor loft with 7ft 1in. headroom
3/4" structure wood decking and 2x8 floor joists
Pre-primed siding
Siding: 3/8"L.P (Louisiana Pacific) Smartside Ext. Paneling with 50-year limited warranty
SIDING
LOFT
ELEVATION
WINDOWS
(2) Two single hung insulated windows with screens & raised panel shutters are included. Shutters can be painted to the color of your choice (paint not included). One window is 28in. x 38in. and the other is 36in. x 36in.
DOOR
The garage door is not included. The homeowner purchases the style, size, and color garage door from a home center local to them. We recommend considering hiring a professional to install the track and door.
Included 9-Lite 32in. man door can be installed in the location of your choosing.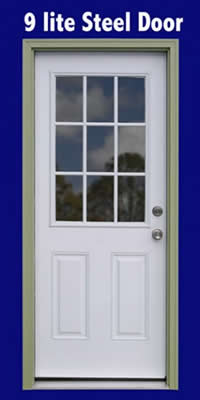 STAIRS
The included stairs are 'L' shaped and are designed so the landing in the second floor is exactly center of the building.