VersaTube 12x29x12 Classic Steel Carport Kit (CM012290120)
The Classic design has been the traditional mainstay of carport manufacturers and retailers for many years. And with the VersaTube Slip-Fit frame system, you can get your carport kit with roof assembled in a single afternoon using common tools.
Structure Dimensions:
Erection Size: 12'W x 29'L x 12'H
Roof Pitch: 3:12
Sheet Metal Coverage: Roof coverage is 28'10" with a front and back overhang of 11".
Side Wall Height: 12'
Peak Height: 13'6"
Special Note on Frame Length: Actual frame length is 27' long with 4.5' on center truss spacing
On Center Spacing: 4.5'
Steel Frame: 2"x 3" 14 & 15 gauge tubing made of the highest quality domestic galvanized steel
Sheet Metal Panels: 15
Sheet Metal Panel Size: 10' and 9'2"
Sheet Metal Gauge: 29 gauge
Maximum Snow Load:
Ground Snow Load - 31lbs.
Roof Snow (LIVE) Load - 22 lbs
at 90 MPH wind load
Maximum Wind Load:
109 MPH wind load
at 27lbs. Ground Snow Load
20 lbs Roof Snow (LIVE) Load
Shipping Dimensions:
Pallet Size: 40"W x 120"L x 16"H
Total Weight: 1197.53 lbs
Warranty Details:
Frame Warranty: 20 year limited + product pledge
Sheet Metal Warranty: 20 year paint finish
Classic Series DIY carport kit features horizontal application of sheet metal panels with the extra protection of rounded eaves.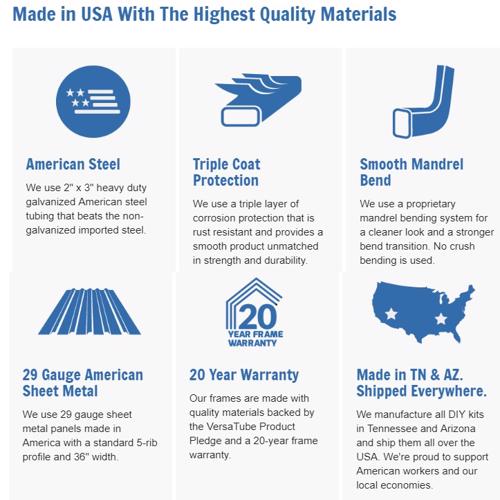 SELECT COLOR OF YOUR CHOICE!