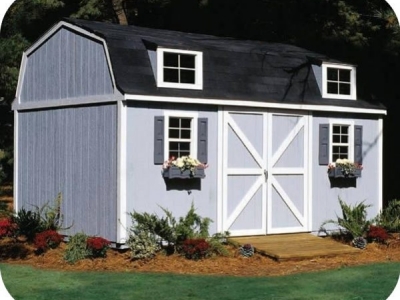 ShedsDirect had always been proud to carry one of the biggest brands of Do-It-Yourself wood shed kits because not only that they deliver great and quality products but they are also a healthy growing company that commits to a beyond-average standard when it comes to their service. In this coming years, we are more than happy to welcome new superior quality products from their line but before they surprise us with their fresh branded sheds and buildings, homeowners should need to check out Handy Home's famous wood storage shed kits and recreational building kits before they sold out!
This subsidiary company is under Backyard Storage Solutions LLC has been in the business for almost 44 years and all products are manufactured in the United States. Their facility is located in Monroe, Michigan, and their sheds and specialty buildings are built by state-of-the-art machinery and experienced craftsmen using the most durable materials. These are then packed into kits and shipped to their 33 dedicated branches across the United States.
They have lasted this long because they never forget to improve and apply the best knowledge that they have into action to create these building kits. They always push their limits that is why most American Home Owners, as well as Farm-Related Business Owners, had always been eyeing Handy Home Products to cater to their storage needs. Backyard Storage Solutions LLC, as well as their subsidiary companies, aim to furnish and supply shed kits and buildings that are meant to last, that is why they only use the highest quality materials there is to achieve this goal. Their products combine a 40-year treated 4x4 runners, stud grade wall framing materials (2x3 on Value Series and 2x4 on all other Series), a 5/8" OSB floor decking with 40-year treated floor joists 16" on center, a 7/16 OSB roof sheathing as well as a smartside engineered wood siding that is treated to resist insects and fungal decay and is ready to paint. (Note: Paint, Shingles, Roof Edge, or Gutter are NOT Included!).
Handy Home Products takes 4-6 weeks for it to ship out after the order date from the manufacturer's warehouse and customers will be contacted by phone and email by Handy Home's local office once it reaches the local terminal to set up a delivery time. Upon delivery, the sheds are pre-cut and ready to assemble using some basic tools such as a hammer, screwdriver, tape measure, level, and step ladder. New builders should not be in doubt to assemble these sheds because there are no special skills required to finish. Simply follow the fully illustrated and easy-to-read instructions included.
Their dedication and passion to give these excellent wood shed kits and buildings is what fuels their business to further develop into something they have hoped for when they started. That is why if any homeowner is planning to secure a woodshed for their backyard, Handy Home Products is the way to go! ShedsDirect offers the Lowest Prices and FREE Shipping on all orders so make sure to purchase your first Handy Home Shed here now! For inquiries, questions, and assistance on order placements, feel free to give our Customer Service Hotline at 888-757-4337.
Choose Your Newest Handy Home Shed Now!