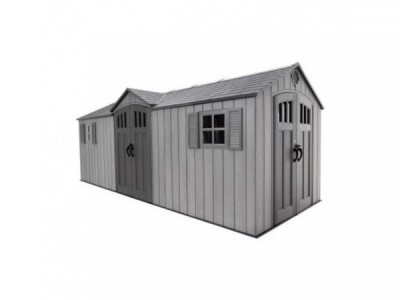 Every well-known business mostly came from humble beginnings, but flourished after years of improvement through thorough research and expertise. One business with this background is Lifetime Products and they never stopped providing affordable yet durable products. Here is their brief backstory:
In a garage in Riverdale, Utah, there was a hard-working head of the household and he was a big basketball enthusiast. He simply wanted to build a better basketball hoop for his family and with his innovative spirit, he becomes the founder of what we know now as Lifetime Products in March of 1986. He called this company "Lifetime" because this mirrors his goal to provide the consumer with long-lasting and effective products to last a lifetime. From basketball hoops, Lifetime's product line quickly extended to picnic tables, folding tables, and chairs, and now sheds and kayaks.
Before this year ends, ShedsDirect is proud to bring one of their best-selling large shed, the Lifetime 20x8 Plastic Storage Shed Kit w/ Floor in Light Brown (60351)!
Choosing the appropriate backyard shed is not an easy feat, but with Lifetime Products, one can never go wrong. This is engineered out of a High-Density Polyethylene (HDPE) Construction and is even UV Protected to shield it against weather damages. It will look great in any backyard setting because it has an intricate Rough Cut Texture giving it a natural look and feel of wood without the maintenance of painting or staining. The walls are doubled for a stronger layout and the shed is also reinforced with steel. Rain and snow will come and pass by but the shed will still stand strong because it has heavy-duty steel trusses that give additional roof support and the high pitched roof design will simply let rain and snow slide down from the roof that'll prevent accumulation on top of the shed.
The Lifetime 20x8 Plastic Storage Shed Kit w/ Floor in Light Brown also features a Slip-Resistant High-Density Polyethylene (HDPE) Floor that protects it against oil, solvents, and stains and this also comes with a full-length Ridge Skylight for natural interior lighting that'll assist the homeowner in saving some dime for shed lights. There are two screened vents attached to the shed to assist in the ventilation and airflow and the adjustable shelving and storage system will surely come in handy if the homeowner is in the process to arrange the shed's interior. Garden tools, pool supplies, and many other pieces of equipment will be secured from onlookers and wild animals because this has a set of steel-reinforced double doors that are lockable. The technical name of the color of this shed is "light brown" but it does appear to be closer to gray in some light as the undertones are cool. Lifetime got you covered with a 10-Year Limited Warranty!
ShedsDirect offers FREE Shipping on all orders with the Lowest Prices in the market! For questions or inquiries. please reach out to our customer service hotline at 888-757-4337! Stay safe and happy online shopping!
PURCHASE THIS LIFETIME SHED NOW!
HEALTH IS WEALTH, SO DURING THIS PANDEMIC, YOU CAN WORK FROM HOME USING YOUR SHED!